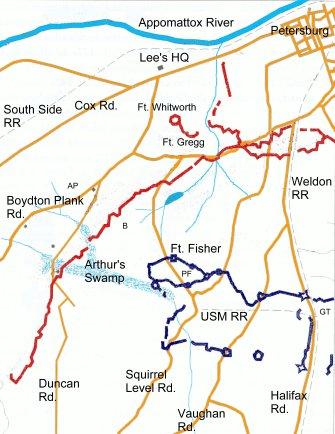 This map is based on one found in Wilson Greene's new book on the last days of the siege, Breaking the Backbone of the Rebellion (see page 98).
The area covered in this map is the area fought over at the Battle of Peebles Farm in September and October, 1864. This also is the area in which VI Corps made its decisive breakthrough on April 2nd, 1865.
To orient the reader relative to other actions discussed on this site, the Globe Tavern fighting took place at the spot marked "GT;" the Peebles Farm battle was approximately at the spot marked "PF." The two actions along Hatcher's Run occurred just off this map to the southwest (lower left). The VI Corps breakthrough occurred at the spot marked "B". Forts Whitworth and Gregg, scenes of savage fighting later on April 2nd, are also marked on the map. Confederate Lieutenant General A.P. Hill was killed, approximately, at the spot marked "AP".